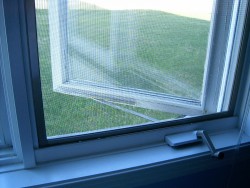 Eleet Glass & Mirror LLC isn't just your source for quality glass services in Alexandria. We also offer window screen repair services for home- and business owners. If you need screen repair for a single window that suffered storm damage or another accident, or if you want to do building-wide screen replacement, you can count on Eleet Glass & Mirror's skilled and knowledgeable team to get the job done right. Call now for more information!
Window screens are an important component of your windows. They allow you to open the windows to let fresh air in without worrying about bugs, birds, and debris coming inside, too. While screens are built to last for years, they are susceptible to damage, in which case you'll need professional screen repair or replacement. Waiting for screen replacement when you have a torn or broken screen can lead to problems with mosquitoes and other pests. Improper repair or replacement, meanwhile, can lead to the same issues, as well as the new screen not being stable in the window frame. For best results, call Eleet Glass & Mirror right away.
Our window screen repair experts have more than 20 years of experience helping Alexandria-area residents have beautiful and durable windows. We're fully licensed and insured for all of the services we offer, including screen repairs. When you call to discuss window screen replacement, you can count on prompt, reliable service from friendly and knowledgeable pros who care about your satisfaction.
You can also count on being quoted a reasonable rate for window screen repairs. At Eleet Glass & Mirror, we make affordable prices a top consideration. We don't believe anyone should be priced out of quality workmanship. When you choose us for replacement screens, you can breathe easy knowing you're getting superior craftsmanship at a great price.
One-Year Labor Warranty for Screen Repairs
Do your replacement screens rattle in the wind? Has a screen fallen out of the window? If you hired Eleet Glass & Mirror for window screen replacement and you're now experiencing a problem related to our labor, give us a call. We stand behind our window screen repairs with a comprehensive one-year labor warranty, and we'll be out to your property as soon as possible to resolve the issue, once and for all.  
For more information about working with Eleet Glass & Mirror LLC to replace a window screen, contact us now. We'll be happy to give you a free cost estimate, and we'll work hard to ensure your satisfaction with our services. From glass to screens to frames and hardware, we know windows!