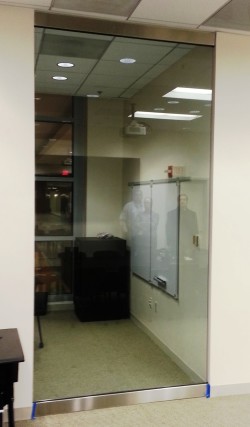 As the owner of a retail store, restaurant, bar, or office space, you know how important first impressions are to your customers and clients. Unfortunately, broken, cloudy, or otherwise substandard glass windows and doors can make your space look unprofessional and uninviting. If you need to replace broken glass in a commercial door, need new commercial windows to let more light into your space, or want to install display cases to better show off your merchandise, you've come to the right place. Eleet Glass & Mirror LLC is pleased to be Alexandria's source for top-quality commercial glass services at affordable prices. We'll ensure that your glass fixtures and surfaces work as hard as you do! Call or e-mail us today.
Depending on what kind of business you own, we can help you out with an array of glass needs. Choose Eleet Glass & Mirror if you need commercial glass pieces including:
Commercial windows
Commercial entrance doors
Storefront windows and doors
Glass display cases
Glass shelves
Mirrors
Partitions and interior walls
Decorative glass fixtures
And more!
From glass items that are strictly functional to those that add a decorative touch to your space, Eleet Glass & Mirror has you covered. We create commercial glass doors, windows, and surfaces that are durable and will stand up to the tests of time and use. Whether you need a single replacement pane for a cracked storefront window, you want to install new mirrors in your clothing store's dressing rooms, or a recent storm damaged your commercial door, our experienced pros will be able to give you superior results.
Storefront Glass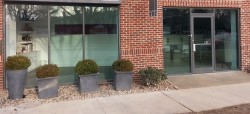 Whatever type of store you own, from a chic boutique to an appliance store franchise, you need storefront windows that effectively and attractively display your merchandise. You also need to ensure that the glass is properly treated to protect that merchandise from sun damage. At Eleet Glass & Mirror, we have the training, knowledge, and skill it takes to give you exactly what you need. We provide glazed, laminated, or tempered storefront glass to meet your needs. If your storefront includes commercial entrance doors, we can also install all hardware, from hinges to handles.
Eleet Glass & Mirror LLC stands behind our work with a one-year warranty on labor. If you select insulated glass, we guarantee the seal between the panes for 10 years. But that's not all that separates us from our commercial glass door and window competitors in and around Alexandria. We're also pleased to offer emergency service. If you need immediate assistance to resolve a broken storefront door, restaurant window, or other glass surface, we'll get to you as soon as we can. We offer board-up services to protect your inventory from theft and the elements while we purchase and fabricate your replacement glass, and we'll work quickly and efficiently to give you the finished product you need. Contact us today to schedule our commercial glass door, window, and display services, and to get a free estimate!