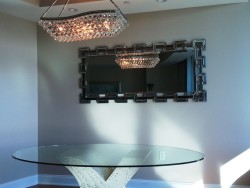 Glass-top tables are stylish, attractive, and easy to clean. They make a décor statement, whether you have a single table in your breakfast nook or a set of matching tables at your cafe or restaurant. Plus, a glass table top can be an ideal way to protect an antique or valued table from surface damage. Whether you need new table tops or you need replacement glass for table tops that have cracked, chipped, or broken, you can trust Eleet Glass & Mirror LLC for excellent workmanship and customer service. We have more than 20 years of experience in the table top replacement and installation business, and we use state-of-the-art technology to give you superior results. Call now for a free cost estimate!
At Eleet Glass & Mirror, we're able to cut glass for a table top in any size and shape, including:
Circles
Ovals
Squares
Rectangles
Octagons
And more
If you need a glass table top to cover a specific surface or to replace a broken glass pane, we'll use a computer eye to scan the area and duplicate it exactly. Our goal is to meet your needs entirely, from the thickness of glass used to the measurements of the table to the edgework. We can create glass-top tables with a polished edge, a beveled edge, or whatever look you're going for. You can count on Eleet Glass & Mirror for a glass dining table top, desk top, or other surface that has the look you want while also being properly installed and constructed to last.
Affordable Glass for Table Tops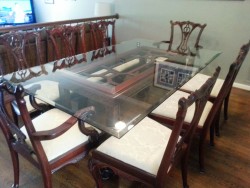 Table top replacement and installation can get pricey if you don't work with a company that cares about keeping its rates reasonable. Eleet Glass & Mirror is pleased to be one of those companies that does care. In fact, our prices for table glass replacement are among the lowest in and around Alexandria. Despite our commitment to affordability, we'll never sacrifice quality or cut corners. We believe quality workmanship and reasonable rates can go hand in hand.
Eleet Glass & Mirror LLC stands behind its glass dining table top services, and all of its glass services, with a one-year warranty on labor. Our licensed and insured specialists will work hard to give you great glass for table top results that will last. Want more information on what Eleet Glass & Mirror can do for you? Call or e-mail us today!